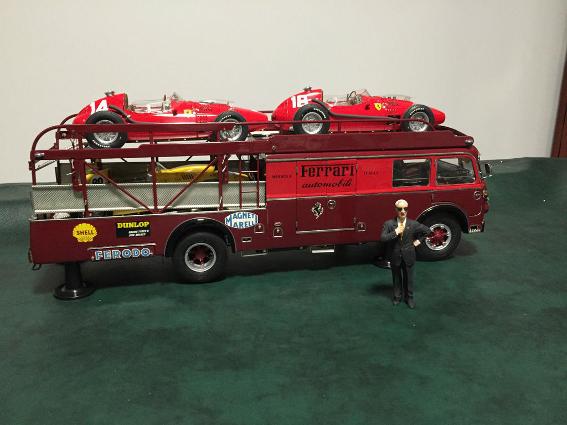 Unique set of models from the 1958 Ferrari Formula One racing team including a CMC model race car transporter and 3 Exoto model Ferrari D246 Cars.

This fabulous set of die cast models comprises the following 1:18 scale items:-
- CMC model M-084 – 1957 Ferrari Race Car Transporter Fiat 642 RN2 Bartoletti.
- Exoto Grand Prix Classics model GPC97218 - 1958 Ferrari D246, #14 M Hawthorn, Italian Grand Prix (World Drivers Champion).
- Exoto Grand Prix Classics model GPC97216 - 1958 Ferrari D246 #20 O Gendebien, Belgian Grand Prix.
- Exoto Grand Prix Classics model GPC97218B - 1958 Ferrari D246 #18 P Hill, Italian Grand Prix.
Also included is a VROOM 1:18 scale figurine of Enzo Ferrari.

The 1957 Ferrari race car transporter was based on a Fiat type 642 RN2 bus chassis with open body work designed by Bartoletti. It was designed for hauling three race cars. The CMC model M-084 replica is assembled from 3,115 single parts and measures approximately 50 cm long. Features of this model include:-
Drivers cabin includes a dashboard complete with all instruments and controls, genuine leather seats, adjustable exterior mirrors and pivoting sun visors made of coloured plastic.
Functional storage drawer designed to stow away the six stop-blocks for holding the race cars in place.
Highly detailed fully functional car hoist with rails made of authentic checker-pattern metal plate and rope lift system with wheels and pulleys. The tailgate has a functional bar-slide locking mechanism and the ramps can be shelved sidewise and held in place with toggle screws.
Removable spare wheel and spare-wheel bracket with a functioning spring clip-lock.
Authentic replication of the Trilex wheel system. Rear wheels are twin-tires.
Flanged towing hitch behind removable cover plate.
Highly detailed 6-cylinder diesel in-line-engine, complete with a hinged engine cover.
Detailed drive train components and rear suspension.
Front axle incorporating metal compound leaf-springs
Inspection bay with built-in racks for spare parts.
Distinctive radiator grille made with individually mounted bars.
Hinged front panel with the Fiat logo enabling access to the cooler inlet filler neck with a cap that can be opened.
Hinged flaps that enable access to the storage space and battery and fuel filler neck and step covers that can open and close.

The Exoto model GPC97218 is the 1958 Ferrari D246 which Mike Hawthorn drove to second place in the 1958 Grand Prix of Italy at Monza, the year of his World Drivers Championship win. The Exoto model GPC97218B is of the 1958 Ferrari D246 driven to third by Phil Hill in the same race. The 2 Ferraris finished behind the Vanwall of Tony Brooks with Vanwall going on to win the World Manufacturers Championship from Ferrari. Both of these models are painted red and are limited edition models of only 333 each.
The Exoto model GPC97216 is the 1958 Ferrari D246 which Belgian driver Olivier Gendebien raced in the Grand Prix of Belgium at Spa placing 6th. The car is painted yellow, the racing colour of Belgium and is also a limited edition of 333 models.
These Exoto models are typically considered to be the finest Formula One 1:18 scale models manufactured. Further details can be found at http://www.exoto.com/s/1/ProductList.aspx?Language=en&AttributeType=Category&AttributeId=315
The VROOM model figurine of Enzo Ferrari is hand painted and very detailed.
This is an absolutely outstanding and very rare opportunity to own a truly unique set of models from the world's most famous racing team.
$5000 AUD + SHIPPING