2010 INDY 500 FULL RACE ON DVD
Sunday, May 30, 2010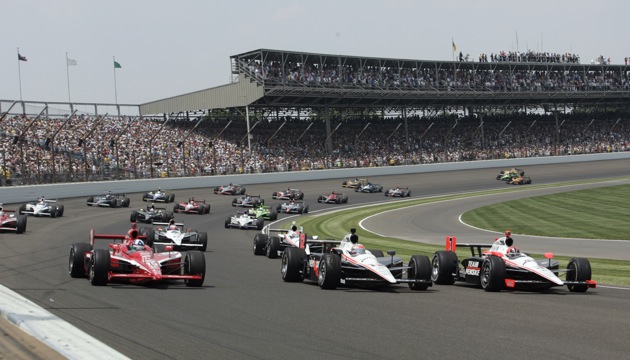 The 94th Indianapolis 500 was held on Sunday, May 30, 2010, at the Indianapolis Motor Speedway. It was the 15th Indy 500 sanctioned by the Indy Racing League, and was the premier event of the 2010 IZOD IndyCar Series season. The race was won by Dario Franchitti, ahead of Dan Wheldon and Marco Andretti. Tony Kanaan, who had started in the final position, ran as high as second during the race before finishing eleventh. It was the first Indy 500 to run the full 500-mile distance in a year divisible by 3 since 2001.
The race was the second of the three-year long Centennial era, celebrating the 100th anniversary of the opening of the Indianapolis Motor Speedway and the 100th anniversary of the first Indianapolis 500. It was the 53rd time the race had been held on a May 30. This year marked the first race with four female drivers (repeated in 2011), and Simona de Silvestro was awarded Rookie of the Year.
Starting grid
Will Power's #12 Verizon Wireless machine, in which he qualified in the middle of row 1.
Row Inside Middle Outside 1 3
Hélio Castroneves (W) 12
Will Power 10
Dario Franchitti (W) 2 6
Ryan Briscoe 77
Alex Tagliani 9
Scott Dixon (W) 3 30
Graham Rahal 20
Ed Carpenter 06
Hideki Mutoh 4 99
Townsend Bell 22
Justin Wilson 2
Raphael Matos 5 32
Mario Moraes 21
Davey Hamilton 24
Mike Conway 6 26
Marco Andretti 37
Ryan Hunter-Reay 4
Dan Wheldon (W) 7 8
E. J. Viso 23
Tomas Scheckter 25
Ana Beatriz (R) 8 78
Simona de Silvestro (R) 7
Danica Patrick 36
Bertrand Baguette (R) 9 33
Bruno Junqueira 19
Alex Lloyd 34
Mario Romancini (R) 10 43
John Andretti 67
Sarah Fisher 14
Vitor Meira 11 5
Takuma Sato (R) 29
Sebastian Saavedra (R) 11
Tony Kanaan
(W) = Former Indianapolis 500 winner