THE ENTIRE 2010 IZOD INDYCAR SEASON ON DVD
17 FULL RACES - START TO FINISH !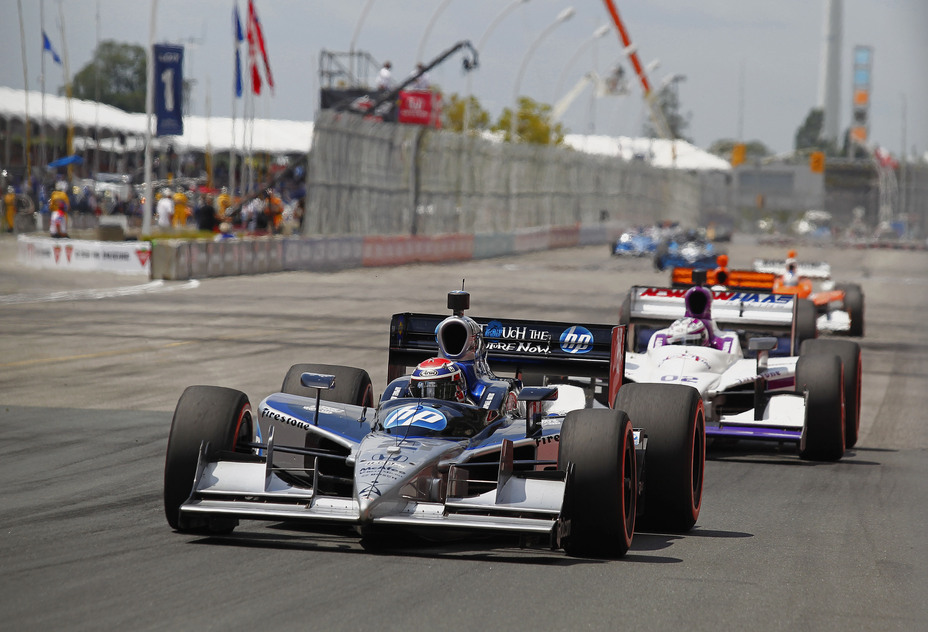 THE ENTIRE 2010 IZOD INDYCAR SEASON ON DVD
17 FULL RACES - START TO FINISH !
The 2010 IZOD IndyCar Series was the 15th season of the IndyCar Series, and the 99th recognized season of top-level American open wheel racing. It was the series' first of six planned seasons under Izod title sponsorship, a multimillion-dollar deal which was announced on November 5, 2009.[1][2] Its premier event was the 94th Indianapolis 500, held on Sunday, May 30.
Chip Ganassi Racing's Dario Franchitti retained his title, to win his third in four seasons after defeating Team Penske driver Will Power in a championship battle that went to the final race of the season at Homestead-Miami Speedway. Power had led the championship for most of the season, and led Franchitti by twelve into Homestead, but after hitting the wall during the race and finishing in 25th place, Franchitti's eighth-place finish with maximum bonus points gave him the championship by five points. Franchitti and Power each won one of the new-for-2010 sub-championships for oval tracks, and road courses. Franchitti won the oval championship with six top-five finishes from eight races, including victories at the Indianapolis 500 and Chicagoland,[3] and also won the road course event at Mid-Ohio. Power was even more dominant in the road course championship, finishing each of the nine races in the top three, with five wins in São Paulo, St. Petersburg, Watkins Glen, Toronto and Sonoma.[4]
After battling Franchitti for the title in 2009, Scott Dixon and Ryan Briscoe finished third and fifth in the championship standings with the third Penske car, piloted by Hélio Castroneves finished between the pair. Dixon won on the ovals at Kansas and Homestead-Miami, as well as a victory in Edmonton after Castroneves was penalised for blocking on a late-race restart. Dixon's victory in Florida helped him overhaul Castroneves for third place in the championship standings. Castroneves also took three victories during the season, winning the inaugural race at Barber Motorsports Park as well as back-to-back victories at Kentucky and Twin Ring Motegi, as he finished sixteen points behind Dixon. Briscoe finished over 100 points behind Franchitti, with a solitary victory at Texas. Andretti Autosport drivers Tony Kanaan and Ryan Hunter-Reay were the only other drivers to win a race, as they finished sixth and seventh respectively. Rookie of the Year went to Dale Coyne Racing driver Alex Lloyd who competed in his first full season, after three races over the previous two seasons. He finished 24 points ahead of Simona de Silvestro.
As of 2020, it was the last time that IndyCar driver won the Indy 500 and IndyCar Series double title in single season to date.